Mailing List
To receive updates about Rivet Gun artists and new releases, fill in the box below and subscribe to our newsletter. We don't share mailing lists or personal details with other parties.
Welcome to Rivet Gun Records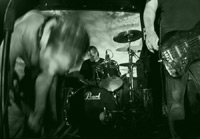 Rivet Gun Records is a small, independent 'net label founded and run by the Oxford-based punk band Junkie Brush. Primarily a label to put our own stuff out on, we also occasionally put out releases by other bands or our own side-projects through the label.
To date we've released the entire Junkie Brush catalogue, and have also released records by Drunkenstein and Tie Your Shoes To Your Knees And Pretend You're Small Like Us, 13Gauge, Laima Bite, Agness Pike and Hot Hooves.
Rivet Gun Records focuses on heavier or more left-field bands, predominantly punk & metal acts with a few lighter things thrown in. We're open to any kinds of music though and are always seeking acts to help promote and release. If you want to be part of our family, drop us a line and we'll be more than happy to give you a listen.